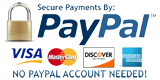 If you've got cat or dog urine odors or stains in carpet, pad or trashed subfloor, you've come to the right place. Read our customers' reviews and you'll see they're very happy with DooDoo Voodoo. Its pet-friendly formulation works where other products already failed. Stains from barf, poop, pee, blood, bile and more (both human and animal) often disappear right before your eyes. It can even salvage "trashed" carpet and subfloor you might otherwise have to replace.

We are a family-owned company. Invented by the founders of two federally licensed animal charities, a nonprofit spay/neuter clinic and a rescue facility where we provide lifelong care for special-needs animals, DooDoo Voodoo's proprietary chemistry neutralizes odors differently from other products you may be familiar with. It even works on areas you've already treated with disinfectants, bacteria- or enzyme-based products, white vinegar, carpet cleaning solutions or anything else. Our proprietary chemistry doesn't "see" the previous treatments, unlike other types of stain & odor removal products, which may not work on areas you've previously tried to treat with other products. DooDoo Voodoo works great on carpet, clothing, furniture, leather, car interiors, theater seating and more. Human hospice workers even use it to control human stains and odors.
<<<<<
Click The Image
To Download Our
Latest Brochure
(1.3MB PDF)

DooDoo Voodoo is tolerated well by people & pets, and has no overpowering "chemical" smell or lingering fragrance. It's biodegradable & largely uses "green" ingredients. It works great for carpet cleaning in your home or car. It's also just as effective on human urine, vomit, spilled milk odor, cigarette odors/stains & other organic odors & stains.

If you've been dissatisfied with other products, try ours. You'll absolutely love it.
Customers say DooDoo Voodoo dramatically outperforms bacteria- & enzyme-based odor neutralizers and those "as seen on TV" products. We get lots of repeat orders, so you know our customers find DooDoo Voodoo to be highly effective. Read our customer reviews! We know that you'll love DooDoo Voodoo as much as they do! We have customers who repeatedly buy hundreds of dollars' worth, year after year, so you know DooDoo Voodoo works!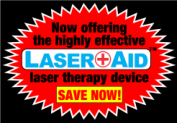 NEW! To further help animals (and humans!), we also now sell the fantastic Laser+Aid™ Multi-Modality Personal Therapy Device™. Got a companion animal (or horse) with arthritis, skin disorders, wounds that won't heal, etc.? The Laser+Aid (pronounced Laser Aid) might be just what your buddy needs. It's a combination device that incorporates cold laser, infrared radiation, visible red light and static magnetism and is manufactured by the same company that makes popular units for use by licensed medical professionals only. Laser+Aid stimulates the body's cellular healing mechanisms by encouraging micro-bloodflow and decreasing inflammation. We use it on ourselves and in our special-needs rescue facility, where we've seen it work WONDERS. Animals who formerly could barely walk now can bound up the stairs and onto the tables! Laser+Aid is recommended for carpal tunnel syndrome, whiplash, migraines, back pain, arthritis, tennis elbow, knee pain (such as from torn meniscus), Morton's neuroma, TMJ pain, sprained ankle, plantar fasciitis and more. Almost anything that's due to inflammation can be helped by the Laser+Aid. (Learn more about these maladies on the Mayo Clinic website.) Learn more about the Laser+Aid on our PRODUCTS page or at our Laser+Aid page.
>>> Introductory Special! Save $50 For A Limited Time! Now Just $349 <<<
In the Indianapolis area, we also provide referral assistance for in-depth carpet cleaning specifically for pet odors & stains, complete with subfloor work, padding, tack strips, etc. Our 30 years' experience + patented tools and unique chemistry = success other companies can't match! We feel that no one in Indianapolis can provide better pet odor & stain removal than we do. We take the pee out of Indianapolis!™
Got an extremely severe odor or stain issue, or fighting mold or dead-critter contamination? We've got a new product called OmniSept™ that'll work magic for you. E-mail us to find out more.
You can purchase securely with your credit card via PayPal through this site, or by credit card directly by phone .
Welcome!