EXCITING NEWS!
We have been appointed a factory-authorized distributor of the full line of EDIC professional carpet and hard-surface cleaning equipment, as well as the Powr-Flite line of cleaning equipment and the SOS subsurface extraction tools.
If you're interested in purchasing the very same equipment we have used and loved for more than a decade, and that many top professionals use, check out our PRODUCTS page, e-mail us or call us at 317-762-ODOR.

We ourselves are not providing carpet cleaning services at this time, so for the time being, we're happy to refer you to some independent technicians we've had personal experience with:
DANIEL EARLE (317) 431-7139
TOM KOLBY (317) 861-0211
(To download a 398Kb PDF document containing much of this page's information, click here to view the document,
or right click and select "Save Target As" to save it to your hard drive.)
Cleaning Your Own Carpet With DooDoo Voodoo? Check Out Our Extraction Instructions Page

Clean Your Carpet Using DooDoo Voodoo To Get Rid Of Tough Stains & Odors


Even if you're not in our area, we hope that by reading the information on this page, you'll be smarter about how to attack odors and stains in your own carpet, either by yourself or with the help of a professional. Get them to use DooDoo Voodoo instead of their usual chemicals and you'll be pleased with the results. Whether they use a truckmount, a portable, a subsurface extraction tool, a RotoVac, a Steam Genie or just a conventional wand, they can be successful for you by using DooDoo Voodoo.

The Whole Nine Yards For Pet Odor In Your Carpet
To fill a void in the Indianapolis-area carpet cleaning marketplace with regard to pet odors, we've forged relationships with top professionals and have assembled a highly experienced team to help customers whose odor control needs go beyond simply spraying or pouring DooDoo Voodoo. (Please note that we only provide our services in central Indiana.) These are experienced professionals who meet our standards for quality, experience and know-how. We have a referral relationship with them, but they are not our direct employees.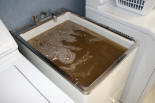 Regular Carpet Cleaning Just Doesn't Cut It


As you may have experienced for yourself, conventional "wand" carpet cleaning often isn't enough to remove pet odor-causing organic contaminants from deep within carpet, pad and subfloor. Four On The Floor Carpet Care takes pet odor remediation to a whole new level (literally) because our capabilities extend far beyond what a regular wand-type carpet cleaning can accomplish. (Yes, we sometimes do utilize a wand, but only when we know it's the correct tool for the job.) As an example of what our tools, chemistry and methods can do, the top picture shows what we removed from just 38 square feet of carpet that had already been conventionally (wand) cleaned and appeared "clean" to untrained eyes.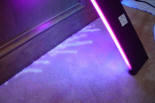 We've invested in patented and specialized equipment that is dramatically more effective than conventional wand cleaning could ever be at removing pet odor-causing contaminants from carpet. Used correctly in conjunction with DooDoo Voodoo and certain other chemicals not available to the general public, our tools and methods, honed by more than three decades of combined experience obliterating pet odors, yield dramatically more effective pet odor control than has been available in the local marketplace. There is no other company in the Indianapolis area using the unique combination of tools, methods and chemistry that we employ.
We use two models of Steam Genie Drag Wand, two RotoVacs (including the new 360 model), five subsurface extraction tools (see the next paragraph) and more.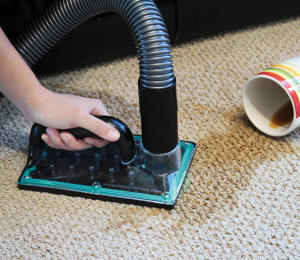 DooDoo Voodoo alone is phenomenal at removing stains and odors. But, if your odor problems are more in-depth than you think you can tackle with just DooDoo Voodoo alone, you might desire to enlist our help or at least ask our advice.
Our favorite pet odor and stain eradication tools are the SOS subsurface tools (the Hand Tool is shown to the right) we now are proud to distribute. There is NO more effective means of eradicating pet odors and stains than to perform subsurface extraction with DooDoo Voodoo, which is like running your carpet and pad through the washing machine. It's WAY easier and more affordable to do this yourself than you might think --- the tools start at just $39.99! If you're doing cleaning yourself, either with a machine you own or one that you rent, you've just gotta learn more about subsurface extraction! I've been doing it and evangelizing about it for nearly 20 years. "Trashed" carpet and pad are no match for the SOS tools!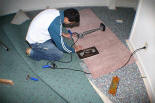 How Far Our Capabilities Extend


While DooDoo Voodoo alone can solve many, if not most, pet odor problems, even where repeated urination has occurred (see the blacklight picture), there are times when total odor remediation requires more invasive methods. Unfortunately for consumers, most Indianapolis-area carpet cleaning companies shy away from these methods like the plague because of the extra time, expertise, tooling and expense involved. With over 30 years of combined experience, our team knows when DooDoo Voodoo alone will be sufficient, and when to dig deeper.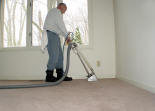 If a pet odor-specific conventional cleaning is all that's needed, we can provide that in lieu of the more in-depth measures, but we'll provide a more thorough cleaning and better odor remediation than other companies would. If, however, additional work is required to rid an area of odor, we have the tools and experience to pull back carpet, remove and replace pad & tack strips (we can even install special new types of non-impregnable pad or plastic sheeting, if desired), seal subfloors, extensively clean & treat both sides of the carpet, re-paint & re-caulk walls & trim as required, re-lay (re-stretch) carpet, patch in and seam replacement carpet if available and more.

While we're at your home, we can provide gentle counsel as to litter box locations, crate training and general environmental considerations that might be contributing to indiscriminate soiling. We'll provide a free copy of our article, "Why Cats Fail To Use The Litter Box," upon request.

Top-Notch Service And Personal Attention
Our team's personnel are fully professional and extremely capable. They will behave appropriately and will respect your property. You can feel good about hiring Four On The Floor Carpet Care or recommending us to others.

Our lead technician has been certified as an IICRC® Certified Master Technician. (IICRC stands for Institute of Inspection, Cleaning & Restoration Certification.) Many carpet cleaners are not IICRC certified, but choosing an IICRC certified technician, especially one with Master Technician status, ensures that the technician has received the maximum level of training in chemistry, fiber-type identification, cleaning methodology, odor control and more. We have the utmost confidence in our lead technician's abilities and feel confident that he is the right person to spearhead your carpet cleaning and restoration project.

We Make Odor Remediation As Easy As Possible
If you need the specialized services we provide, simply call us at 317-762-ODOR to schedule an appointment. Given that we specialize in such uncommon work that most firms wouldn't dare — nor know how to — perform, professional evaluations may be charged for to cover travel, time and expertise. If you hire us to perform the work we discuss, a portion of your evaluation fee may be applied to your invoice. Phone discussions are at no charge, and many customers hire our technicians over the phone based on the in-depth discussions we have with the customers. We do our very best to explain to you the scope of work and the variables that could be involved in your specific job.

We believe that no one in the greater Indianapolis area can provide the specialized equipment, chemistry, experience and know-how that we can to eradicate pet odor in your carpet. Call us today to schedule your evaluation. You'll be glad you did and you'll like working with us.
By the way, we're not capitalists. If we think your best option is to skip the cleaning and simply replace your carpet or pad, we'll tell you that, too. This is most often not the case, but sometimes it's the most cost-effective and expedient solution. We operate by the Golden Rule and want you to receive the best possible outcome for the lowest possiblel cost.
Helpful Info About Preparing For Our Service
Please vacuum the carpeting as thoroughly as possible before we arrive. We move most furniture, but you can save money by moving it yourself. If you have breakable items such as dishes in a China cabinet, you might want to remove them before we perform our work.

If you're trying to salvage your carpet or a piece of furniture, purchase some DooDoo Voodoo and pre-soak the soiled areas up to two hours prior to the arrival of the technicians. This allows DooDoo Voodoo enough dwell time to neutralize some odor and loosen the organic material. This allows the technicians to do a better job of extracting the areas.

If your problem extends into your subfloor and you desire to replace your carpet pad, you can save some time and money by picking up new pad prior to the work date. You'll need to know what thickness and density of pad you have.

If you want your subfloor sealed, we recommend BIN sealer by Zinsser, which is available at most home improvement stores. You can pick it up yourself and save time and money, too, and you can even paint it on after we pull your carpet back (top pic). If you're going to do this, don't forget a brush (2", angled works well), a roller with cover (short nap of 3/8") and a roller pan. A 4' extension handle for the roller might also help.

If you want to gently pull your carpet back and remove your tackless strips, which many people call "tack strips" (pic #2), we recommend that you also fill any resulting nail holes with high-quality paintable caulk (pic #3). You can dab it on with your finger or you can use a putty knife. We like the disposable plastic type (<$1.00) in the 1"-2" widths. Get the best paintable, silicone-based caulk you can afford; it will tend to crack less over the long run.

Often people desire or need to repaint their baseboards after remediation work to help freshen the look and seal in any residual odors that might emanate from broken caulk joints. If you want to repaint the baseboards, it's a good idea to re-caulk the junctures at this time, too. Don't forget to get paint and extra caulk while you're at the home improvement store.

In short, there are many ways you can be involved in the job to lessen the time and expense involved. We'll work with you—literally and figuratively, if you desire—to make odor remediation as painless as possible, in every regard.

There are times when repeated applications of DooDoo Voodoo are necessary to continue lessening the odor in your carpet & backing. Some customers have the time (patience) for this, while others don't. If you don't, we'll discuss the options with you and let you know what the most cost-effective way to proceed is.

When the job's finished, you'll end up with a great-looking, much less odorous room and your carpet will actually last longer due to the thoroughness of our cleaning.

Call or e-mail today to schedule your in-home evaluation or to ask DIY advice.



a division of Four On The Floor Pet Products, Inc.