In 2007, we rescued a little terrier mix named Rocky who turned out to have some pretty serious health issues (eyes, heart, brain and more). His latest challenge is kidney disease, which is what's been contributing to house-soiling behavior lately. We clean up as we go (or as he does, actually), but recently I felt it was time to do a thorough cleaning of the carpet in one of the bedrooms where he spends some of his time.
Here's Rocky: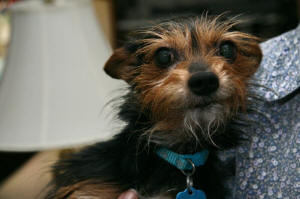 So, I fired up one of our professional, portable carpet extractors (the EDIC Bravo, shown below), which is known in the carpet cleaning industry as a "spotter," meaning that it's not made for cleaning entire rooms...just spots or upholstery. The unit uses a 3" wand and only provides suction, not the agitation some consumer-grade carpet cleaning machines provide with their rotary bristles. (Agitation gets out a lot more than suction alone does.)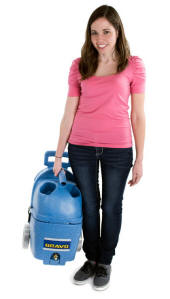 While our machine is pretty powerful, it's a small little thing that's meant to be carried from room to room, so it doesn't have nearly the oomph that a larger portable extractor or a truck-mount machine would have. Still, the results I achieved in our spare bedroom with less than two gallons of RTU DooDoo Voodoo and a couple hours' time were fantastic.
In addition to the little portable extractor shown above, I also used two of our professional subsurface extraction devices, which are designed to much more thoroughly flush contamination out of your carpet, backing, pad and subfloor than a conventional carpet cleaning could ever do.
([NOTE: Just so you're not confused by the subsurface tools shown in the photos below, let me explain that they're a professional brand that we own a number of and used for years, but they pre-date our having been appointed a distributor of the SOS subsurface extraction tools, which we now use and sell and which function identically to the professional tools shown in the photos, but cost up to hundreds less. We are proud to be an SOS distributor and highly recommend their subsurface tools, which are the only ones we now use.)
The SOS subsurface extraction tools start at only $47.99 with free shipping, which is unbelievably affordable given the awesome job they do at eradicating stains and odors from your carpet, backing, pad and subfloor!
Here are the two SOS subsurface extractors I now use --- and you can, too: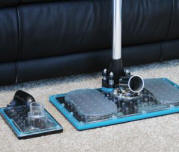 I'll tell you the process I went through and show you some photos in a moment, but first I want to mention two things.
One interesting thing to note was that when I assessed the area, both under normal light and blacklight, I saw no poop stains. But once I flooded the area with DooDoo Voodoo and began using the subsurface tools...BAM!...here came a terrible brown stain, emanating up from the backing, pad and subfloor. It was amazing! I kept subsurface extracting the area and applying more DooDoo Voodoo, but the stain kept coming...and actually grew to be inches across in both directions. But the DooDoo Voodoo neutralized the stain and the subsurface tools successfully pulled all the organic contamination out. How do I know this? Because I never saw any more stain...and even now that months have passed, no further stain has wicked up to the surface. (The photo that shows the poop stain was taken immediately when the stain began to appear. Imagine my horror...especially when it kept growing and growing and getting darker and darker. But I ultimately triumphed, as I knew I would.)
I first did spot cleanup and subsurface extraction, then went over the whole room with one of our self-contained professional carpet cleaning machines (the blue EDIC Fivestar, shown in the last photo). The recovery (waste) water I was flushing down the toilet after doing the subsurface extraction was really, really yucky, but it didn't stink at all, thanks to DooDoo Voodoo. But then, after I began cleaning the whole room with the EDIC Fivestar shown in the last photo, BOY did I pull a lot of junk out of the carpet. You'd be amazed how dirty your seemingly clean carpet may actually be.
Let's Get Down To Work
Here's the process I went through to eradicate all the dog urine, vomit and feces from the bedroom carpet:
I assessed the carpet with a DooDoo Voodoo Blacklight, which you can learn more and purchase here.
I applied DooDoo Voodoo by bucket to the areas most affected. This may seem extreme, but I knew I needed the areas totally saturated so the DooDoo Voodoo could come in contact with all the organic contamination and so the subsurface tools would work properly. You have to be careful if you're going to flood an area, as you want it saturated, but not so much that you've got standing water.
I put on my blue disposable shoe covers and tamped down the areas I'd flooded with DooDoo Voodoo. When you do this, you want to hear the squishing sound, which means that DooDoo Voodoo is being drawn into the cells of your carpet pad, and to see the foaming such as what you see in the photos.
I let the DooDoo Voodoo dwell for about a half hour so I could be sure that it was re-liquifying all the organic contamination.
I then used the professional subsurface tools, one of which is a hands-&-knees device and one of which you stand on, to thoroughly flush the DooDoo Voodoo out of the carpet. We now use and sell the identical-performing SOS subsurface tools.
Next, I flooded the same areas with clean, warm water and went over them with the subsurface tools again. The clean water is shown in the green bucket on the right; the remaining DooDoo Voodoo I mixed up is in the bucket on the left.
I then used the orange upholstery tool (which we call the Claw Tool) shown in the photos to go back over the areas. This gets rid of the subsurface tools' surface waffling, which is from the sculpted bottom surface, and extracts even more moisture from the carpet. Once finished, I dumped the extracted yucky water down the toilet, then stuck the orange upholstery tool down in a bucket of clean, warm water and sucked it through the extractor to flush everything out. I then dumped the extractor's recovery tank contents down the toilet and let the extractor air dry. I also rinsed out the subsurface tools in our mop sink.
After this, I cleaned the whole room with the EDIC Fivestar, which uses bristle agitation to really give a deep cleaning action. The last photo below was taken before I used the Fivestar for whole-room cleaning.
Last (but not photographed), I used one of our carpet rakes to groom the carpet and make the fibers stand straight up. This allows them to dry in a neutral, vertical position and helps the carpet dry both better and faster. It also provides a nice finished appearance to the carpet fibers after cleaning.
The green bucket shown holds 3 gallons up to the level shown in the first photo. But as you might be able to see in a couple of the pictures, I didn't even use all 3 gallons to do this job, which included not only the two areas circled in red, but also another 9 square foot area in front of the door to the bedroom. This was an amazingly successful job that only required part of a quart of DooDoo Voodoo Concentrate to make a couple gallons of RTU. Very affordable!
We hope you'll be impressed by these photos and will purchase some DooDoo Voodoo for yourself today. Remember: your purchase helps provide lifelong care for the special-needs animals in our rescue facility, along with all our other animal-related charity activities.
(Click on the pictures to see larger 1024-pixel versions.)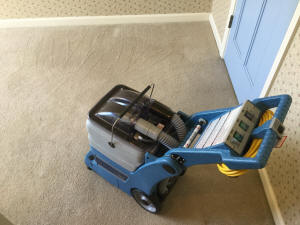 Note: Since your stains and environment are totally beyond our control,
no guarantee is offered or should be inferred.
If you've got stains, you may also have odors in your subfloor. For info on how to deal with these types of issues, visit our Pet Urine Case Studies and Salvaging Pee-Soaked Subfloor pages.
To purchase DooDoo Voodoo, click here. Thanks for reading!

---